Partner Portal¶
The partner portal is the back office for all partners working with us to access all needed information and do what needs to be done in daily business. Our goal is to automate whatever is possible and provide full transparency and self-service. Moreover, it has the tools that our partners need to build revenue.
Having access to a well visualized and user-friendly platform of our services from anywhere and at all times is just one of the benefits of the Partner Portal.
Infocenter¶
Infocenter is the first service available on the partner portal. The following information can help you get the best results of the search function and shows how to navigate on our partner portal.
It allows you to gather valuable information related to place, creative work, product, categories, administrative areas, tags, and events.

Search in Partner Portal¶
There are many different ways to proceed with a search on the partner portal:
Using menu items¶
The menu tab is very easy to navigate. It consists of different tabs (Creative work, Event, place, product, tag, category, and Administrative area). For Category and Administrative area, the tree menu item leads you to the tree presentation of the data. When you click on any of the menu items, it will be used as a filter for your search query.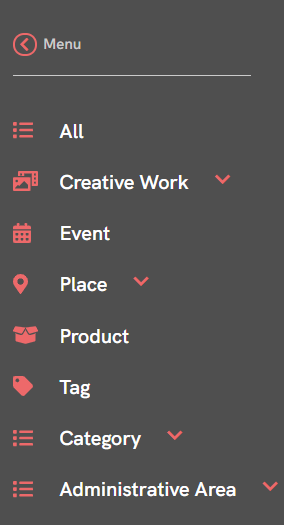 Using filter tab¶
In addition to the menu tab, the filter tab will give you many options to enhance your search results. It contains three different filters; Combined Types, Category, and DataSource.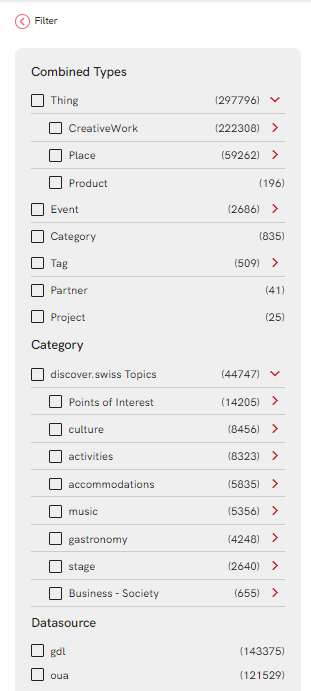 Combined Type: It is a combination of the types discover.swiss uses in the endpoints and additionalType. It is used to deeply and precisely define the type of the object. It represents the hierarchy of schema.org classes which discover.swiss extended with some classes (types) that do not exist in schema.org. It can help you navigate through the data classification Thing and Event.
Category can help you navigate easily among all available categories within discover.swiss and use them as a filter
DataSource it helps you to chooses a specific data provider.
Warning
Several checked values inside one filter (type, category, or datasource) are combined with a logical "Or", several filters are combined with a logical "And". Therefore, if you select a parent all children will be implicitly selected.
Using advanced search¶
Using search bar: It helps to proceed with normal text query search. You can search for names, descriptions, identifiers, or addresses. It will result in general search results where the searched term matches any of these properties.

Tip
Use always the same language as the interface.
Additional filters: There are additional properties where can be used as a filter along with the search bar. It allows to apply one or more specific filters to the search query. In other words, to connect the term "in the search bar" with a specific filter, e.g. Name, Description, Identifier, Address, and Additional Property.

Status and schedule date: the user has the option to search within the published and unpublished data. Also, by specified date range.

Filters chosen in popup windows: the user is able to choose specific project, tags, or regions.
Example
Using the advanced search, adding the word "Zurich" in the search bar, and checking the filter "address" only. It will match the search results where the "address" filed has the word "Zurich".
Editing reccords¶
The user is able to:
add/remove tag.

add/remove project.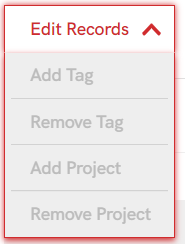 Create Tag¶
The profile owner is able to create "Tags" alone.
For more information about it, please check Tags - content organisation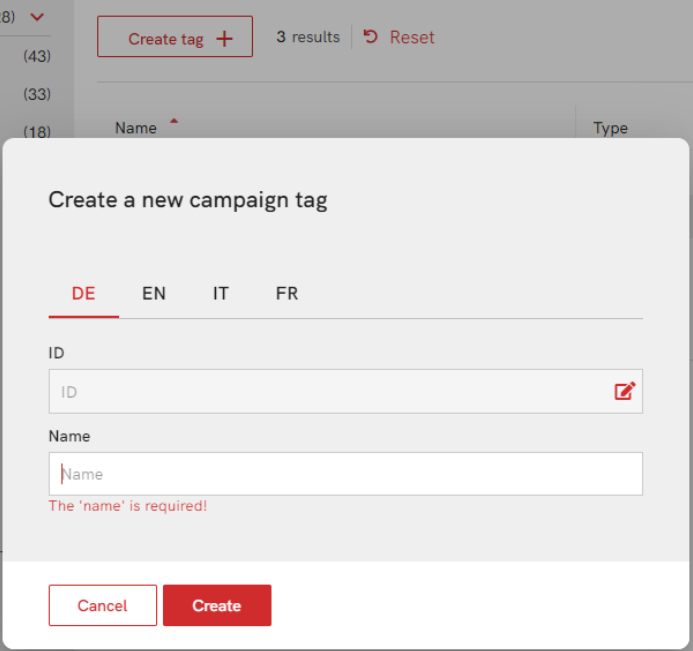 Info
By default, each partner's login is assigned to his project. That means this project will be used as a filter, the search will result only in data related to this project.
Future Implementation¶
At the moment, some of the functionalities are not yet activated, discover.swiss is working continuously to make them available as soon as possible.
Profile¶
Partners have the possibility to access profiles that are connected with them - their own guests.
Marketplace¶
Soon this functionality will be available. Partners can access all orders which were placed by their clients. The main use for *Marketplace is to perform support tasks for the partner's guests, such as:
Find an order
Check its state and content
Cancel and refund orders (if it's possible)
---
Last update:
July 2, 2021 13:16:25