We are in the process to enhance our search function in Partner Portal. In this page you can find helpful hints on how to find certain items (content entities).
Using Filters¶
You can narrow down the search results by adding more filters.
By Project¶

If you know that the item (content entity) exists in a certain project, you can select this project as a filter (in addition to other filters, e.g. filter tab and menu item). after that you can observe the search results, you may need to scroll down or go to the next page.
By Datasource ID¶

You can use the provider's id (e.g. OUA or Guidle). Simply place the provider's ID in the search bar.
One Word Search¶
Most items contains long text in the title. Moreover, some characters or symbols (as provided by author, look the photo). Which it may impact the search function. To overcome this issue, try searching for unique word (from the title) along with the combined type. e.g. slopeside bar, not Tegia Dil Nurser.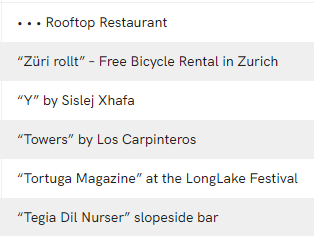 ---
Last update:
July 7, 2021 07:51:26