Order workflow¶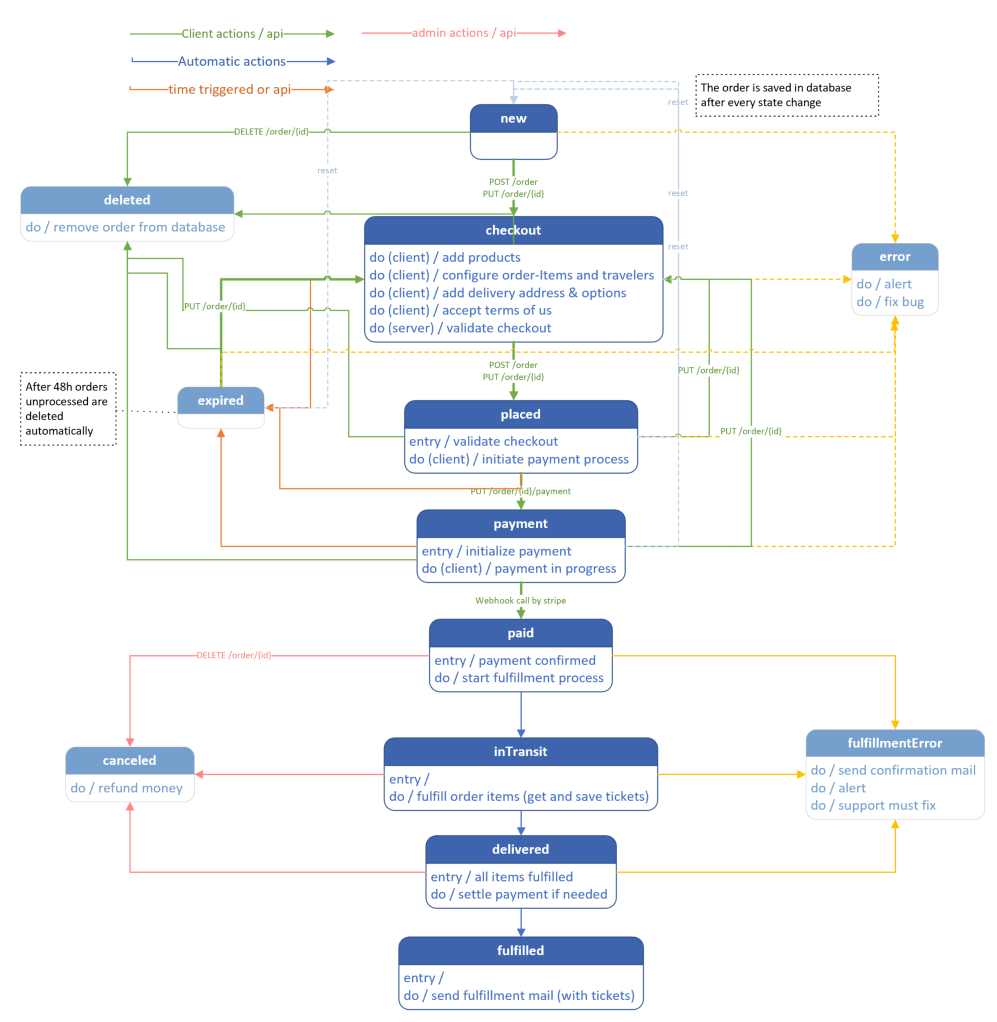 Order states and changes¶
There are 2 ways of working with orders
going forward through the process step by step using specific endpoints and set-new-state
place/save the whole order and set the desired state. State can never be set by the client directly. The api always goes through the whole process step by step and stops at the desired state or on validation problems.
Setting the state is optional. The default state is "checkout".
Refer to the graphic above to determine which state changes are available and what must be validated on entry and what will be done after entering the state.
state
description
order can be modifed
schema.org/OrderStatus
new
shopping basket
yes
checkout
shopping basket
validated-items
yes
placed
ready to continue with payment
yes
payment
payment in progress (on client side)
no
OrderPaymentDue
paid
payment confirmed
no
inTransit
fulfillment in progress
no
OrderInTransit
delivered
items delivered
no
OrderPickupAvailable ?
fulfilled
order and payment completed
no
OrderDelivered
canceled
"storniert"
The support-team has taken take care of it.
In the MVP there is no possibility to cancel an order by the customer.
no
OrderCancelled
expired
order has never reached state paid and wasn't touched for a defined time. But customer could resubmit the order like it would be in state checkout
yes
error
error occurred, but no money involved
no
OrderProblem
fulfillmentError
serious problem and relevant for the business
The support-team needs to take care of it
no
deleted
the order gets removed from the database
so no orders in this state really exist.
no
Order item states¶
Order item states can not be set or requested by the client individually they are a result of the process in the order state machine
state
description
new
shopping basket
validationError
indicates a validation error in the item
placed
ready to continue with payment
inTransit
fulfillment in progress
delivered
items delivered
error
error occurred, but no money involved
fulfillmentError
serious problem and relevant for the business
The support-team needs to take care of it
---
Last update:
April 20, 2021 13:39:09